Savings Bank & First Financial Trust donate $2,500.00 to ensure Santa's arrival to Wakefield! 
The Boys & Girls Clubs of Stoneham & Wakefield hosted its annual Santa Sleigh event on Monday, December 19th, 2022 on Main Street in Wakefield. The Santa Sleigh event is a beloved Wakefield tradition where residents, families and children gather on Main Street to catch a glimpse of Santa in his old-fashioned sleigh guided by his costumed reindeer. Santa concluded his ride at Wakefield Town Hall to distribute gifts to local families in need.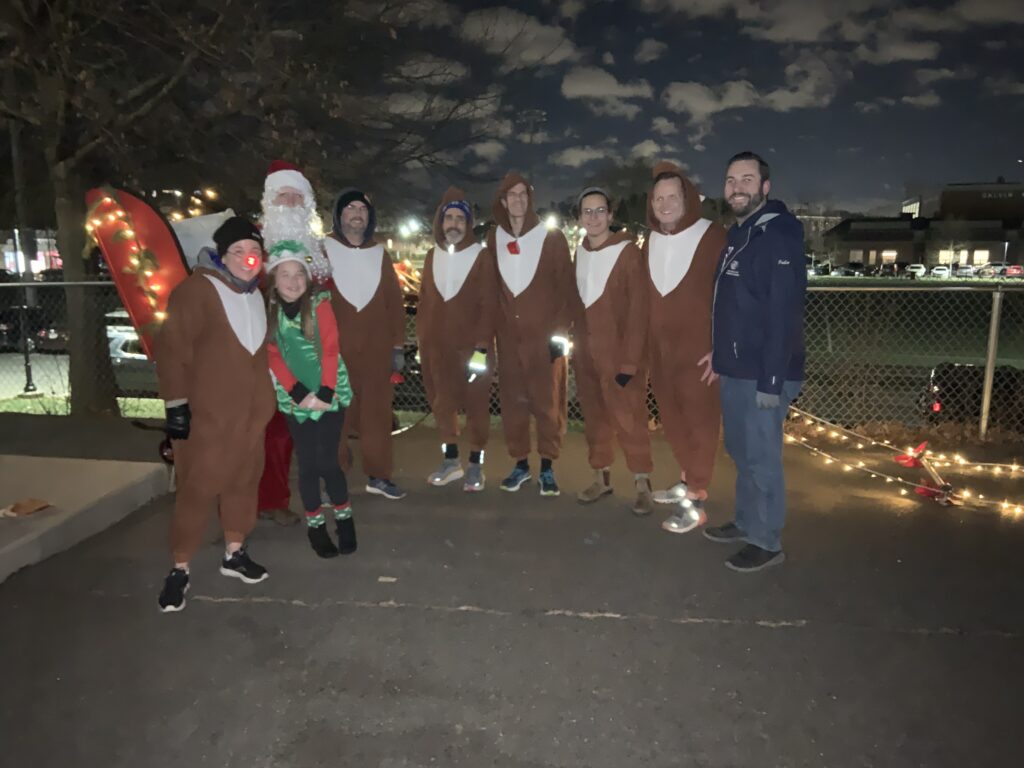 "This is a season of inspiration. The outpouring of support from our community this holiday season was just that: inspiring," said John Brinkman, Chief Operating Officer of the Boys & Girls Clubs of Stoneham & Wakefield. "Our Clubs received twice as many requests for assistance this year compared to 2021. Thanks to our community, every family that reached out for a helping hand was able to be served."
In addition, the sleigh was in need of some repairs and the costs to fix were significant. Fortunately, the Savings Bank and First Financial Trust stepped in.
"We were pleased to support the Boys & Girls Clubs of Stoneham & Wakefield and to do our part to keep this important tradition alive. Sharing the magic of the holidays with families, and seeing children's eyes light up with joy when Santa arrived, makes us so proud to be part of such a wonderful community." said Raichelle L. Kallery, Executive Vice President and Chief Operating Officer of The Savings Bank.
The Clubs would also like to extend thanks to the Wakefield Police for graciously escorting Santa's Sleigh and his team of elves down Main Street and all the local volunteers who helped out as Santa's reindeer.
"There is no better feeling than being able to come together for the families in need this time of year. This year it was especially magical since we were able to double the number of children we could help. We were also able to provide holiday meal packages and gift cards ro make sure every family is taken care of this holiday," said Joey D'Alessandro, Director of Childcare Operations for the Boys & Girls Clubs.
The Boys & Girls Clubs would like to send gratitude to all the local businesses, organizations, families, and community members who generously donated gifts or made donations to ensure that every family has the holiday season they deserve.
Founded in 1990 by Wakefield resident John Shelton and his family, the Wakefield Santa Sleigh passed through Wakefield every year through 2014 before a three-year hiatus. In 2017, another Wakefield resident, Ngan Wedemeier, revived the tradition. The Boys & Girls Clubs has been the driving force behind the last four Wakefield Santa Sleigh events, running the toy drive and organizing volunteers.
It's not too late to donate to the Boys & Girls Clubs of Stoneham & Wakefield to support families this holiday season. To do so, visit BGCSanta.com.