Stoneham/Wakefield – The Boys & Girls Clubs of Stoneham & Wakefield is excited to announce its Young Athletes program, in collaboration with the Special Olympics of Massachusetts. Special Olympics Young Athletes™ is a unique sport and play program for children with and without intellectual and developmental disabilities, and features fun activities that are important to mental and physical growth. Through the program, local children between the ages of two and seven will be introduced to games and activities designed to develop hand-eye coordination and aid in motor skill development areas such as running, jumping, balancing, kicking, catching, and throwing.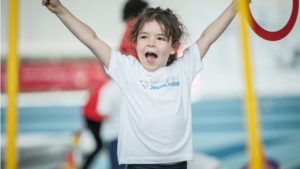 "We are thrilled to offer the Special Olympics Young Athletes program to families at our Clubs this spring. Part of our mission is to give every child in our communities access to experiences and opportunities, regardless of circumstances. This program does just that by offering children of all abilities the opportunity to share the joy of sports with one another. This program also helps children learn how to play with others, share with peers, take turns and follow directions – all which help children thrive in learning environments and social settings," said John Brinkman, Chief Operating Officer of the Boys & Girls Clubs of Stoneham & Wakefield.
The Young Athletes program is an exciting addition to a growing community sports program at the Boys & Girls Clubs. Recent new programs include "Mini Hoop Stars" beginner basketball for ages 3-6, and adaptive floor hockey for individuals with developmental and intellectual disabilities.
"Programs like Special Olympics Young Athletes are a fun way for kids to learn and develop healthy habits such as physical activity, hydration, and nutritious food choices. Habits like these can set the stage early for a positive outlook on exercise and its long-term health benefits, both mentally and physically," said Jess Viens, Athletic Director for the Boys & Girls Clubs.
The Young Athletes program will begin this April and run on Saturday mornings from 11:45am-12:45pm at the Stoneham Clubhouse. To learn more, contact Jess Viens, Athletic Director at the Boys & Girls Clubs of Stoneham & Wakefield at [email protected].